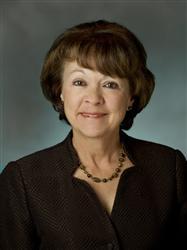 Linda C. McNulty was appointed to the Commission by Senator David Schapira, Minority Leader of the Arizona Senate.

Her education includes a Bachelor of Science in Nursing from the University of Rochester, and a Juris Doctorate from the University of Arizona, where she graduated Summa cum Laude and was elected to the Order of the Coif.

A partner at the law firm of Lewis and Roca, LLP, Linda is a member of the firm's Real Estate and Finance practice group. Her law practice is focused primarily on commercial real estate, business and natural resources law.

In addition to serving on the Commission, Linda is the President-Elect of the Tucson chapter of Commercial Real Estate Women (CREW). She serves on the boards of directors of the Pima County Sports and Tourism Authority and the Arizona Center for Law in the Public Interest. She recently served for several years on the board of directors of the Wilderness Land Trust.

Linda lives with her husband Michael in Tucson, where they raised their daughter, Clare.