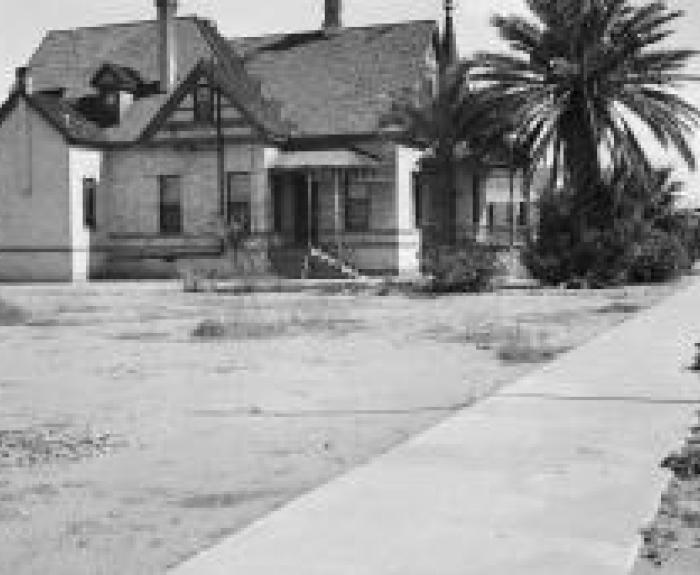 The Evans House
Here is a brief history of the original office for the 2011 Arizona Independent Redistricting Commission.  We conducted our administrative work from this office. The office is now closed until 2021.
Built in 1893, the Evans House is the oldest of only two true Queen Anne-Victorian homes still standing in Phoenix (Rosson House in Heritage Square is the other). Early Phoenicians dubbed this "The Onion House" after its onion-shaped dome.
Private Ownership 1893-1981
Dr. John M. Evans and his wife Jennie lived in the downstairs portion where 12-foot-high pocket doors opened one room with 15-foot-high ceilings into another, providing an environment of airy spaciousness. The upstairs rooms served as the doctor's office.
A succession of owners followed the Evanses. Probably the most notable were a husband-wife team of doctors, Oscar and Virginia Mahoney, who purchased the house in 1908. He was the first superintendent of the Territorial Insane Asylum, and also held positions as a city councilman, county coroner and superintendent at the County Hospital. Virginia was one of only four women licensed to practice medicine in the territory.
Public Ownership 1981-present
In 1978, by then a boarding house in need of repair, the Evans House was placed on the National Register of Historic Places. It was one of only three buildings (of an original 11) cited in a 1940 survey of historical structures, that had not yet ben razed.
To protect this historic resource, the State of Arizona purchased it in 1981 for $115,000. The house was boarded up for six years, until architects who could restore it and a plan for its use could be found. In 1988, the Arizona Office of Tourism moved into the restored house. Early in 1996, it became home to the Arizona State Library, Archives and Public Records, Library Development Division.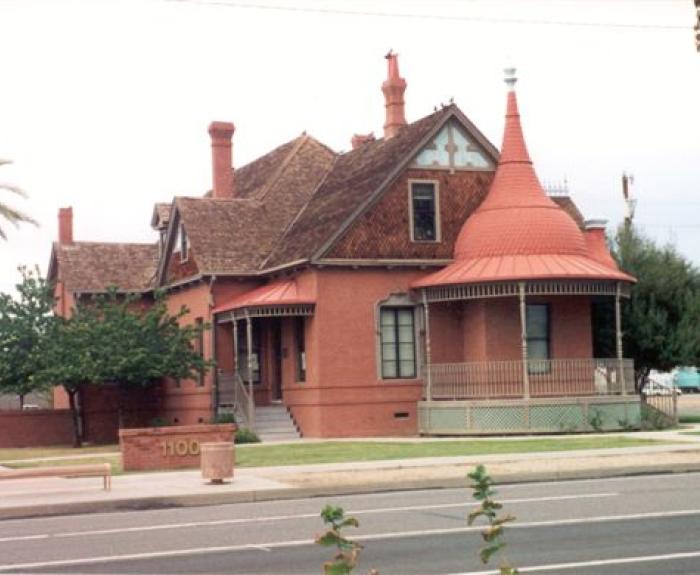 Architecture and Restoration
The Queen Anne-Victorian architecture style borrowed liberally from many styles and eras, including the craftsmanship emphasized in the days of Queen Anne, and was noted for excessive ornamentation. The first floor plan was more open, allowing light and air into the rooms from all directions. Huge sliding doors opened up roms to each other, creating one large space, or smaller private rooms. This was made possible with the introduction of central heating. There was rarely more than one bathroom in the Queen Ann house, with indoor toilets a luxury even in 1880.
Restoration in 1987-88 cost nearly $500,000. Plumbing, electrical and most interior and exterior surfaces were replaced. However, care was taken to retain authenticity of paint and fixtures, and no Phillips screws were used, as that type wasn't used during the 1890's. Modifications of the building involved enclosing an outdoor staircase, to incorporate two restrooms; and a wheelchair lift was installed outside.