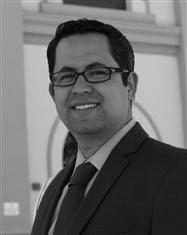 Cid R. Kallen was appointed to the commission by Rep. Chad Campbell, Minority Leader of the Arizona House of Representatives.
After serving 5 years in the U.S. Marine Corps, Cid moved to the Phoenix area with his family.  He earned a Bachelor of Science degree from Southern Illinois University, Carbondale, and a Juris Doctor degree from the Phoenix School of Law.
He is the owner of Kallen Law, P.L.L.C., a general practice firm in Yuma. His practice is focused primarily on criminal defense, immigration and family law.
In addition to serving on the Commission, Cid is a member of the Board of Directors of the Los Abogados Hispanic Bar Association.  He serves on the Arizona State Bar Standing Appointments Committee and recently graduated from the Bar Leadership Institute.  He is also the President of the Community Justice Boards of the Greater Yuma Area, a volunteer organization that works with first-time juvenile offenders in deferring prosecution and helping children learn personal accountability and life skills.
Cid lives with his family in Somerton.